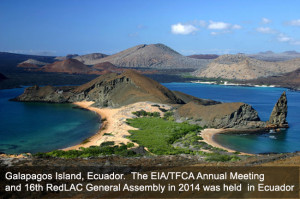 The Secretariat of Enterprise for the Americas Initiative and the Tropical Forest Conservation Act (EAI/TFCA) of USAID/E3/FAB annually organizes meeting of the EAI/TFCA Funds attended by representatives from the Funds, and/or Boards or Oversight Committees. This year, the meeting took place in Guayaquil-Galapagos, Ecuador one day prior to the beginning of the 16th General Assembly of the Regional Network of Latin American and Caribbean Environmental Funds (RedLAC) on October 27-31, 2014 and hosted by the Fondo Ambiental of Ecuador. The TFCA Administrator was represented by M.S. Sembiring at this meeting.
The EAI/TFCA meeting is important to share the experiences on the effective management of the funds. In addition, participation at the RedLAC General Assembly and associated meetings is beneficial to TFCA and KEHATI as the Administrator in developing network with overseas environmental funds (EFs). At this meeting KEHATI was requested to initiate the establishment of similar EF networking for Asia-Pacific region. It was agreed that initial meeting would be held in Sydney this November 2014 at the IUCN World Park Congress.
Ecuador is located in the northwestern side of South America where Galapagos National Park, a well-known natural heritage site is situated. The site is famous for its giant tortoises, and is the place, where Charles Darwin was inspired to spark the theory of evolution. During the course of the meeting, a special program for excursion study to visit this famous island was also organised.
SHARE: