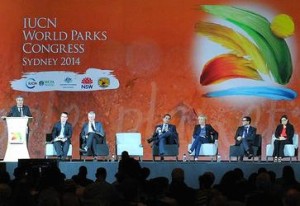 The IUCN World Park Congress is a once-in-ten-years program on protected areas organised by IUCN, and this sixth congress will be held in November 12-19, 2014 in Sydney, Australia. The 6th IUCN World Parks Congress is a global landmark forum on protected areas. Learning from the last Congress in Durban, South Africa in 2003, the Congress will share knowledge and innovation, setting the agenda for protected areas conservation for the decades to come. Building on the theme "Parks, people, planet: inspiring solutions", it will present, discuss and create original approaches for conservation and development, helping to address the gap in the conservation and sustainable development agenda.
Protected areas can take on many different forms, Reviews such as national parks, wilderness areas, community conserved areas, nature reserves and privately owned reserves. At the start of the 20th century, there were only a handful of protected areas in the world. Although many have existed for generations. Over time they have been recognized as a mainstay of biodiversity conservation as well as contributing to people's livelihoods. Today, there are approximately 200,000 protected areas in the world, which cover around 14.6% of the world's land and around 2.8% of the oceans.
Protected areas are important because it provides a wide range of social, environmental and economic benefits to people and communities worldwide. They are a tried and tested approach that has been applied for Centuries to conserve nature and associated cultural resources by local communities, indigenous peoples, Governments and other Organizations. More than instruments for conserving nature, protected areas are vital to respond to some of today's most pressing challenges, Including food and water security, human health and well-being, disaster risk reduction and climate change.
The IUCN World Parks Congress in 2014 will welcome diverse sectors of society, Including Business, Government, Non-Governmental Organizations and Institutions, indigenous peoples, and youth to explore and expand the roles that protected areas play in supporting global social and economic conservation and development goals .
At the time of the World Parks Congress in Sydney, the latest update on the protected area of coverage will be made ​​public. In addition to be the participant of the congress, KEHATI will participate by being one of the hosts in the implementation of Side Event: "Asia-Pacific CTF Network Kick-Off" which will be held on November 16, 2014. TFCA-Sumatera also participated by providing materials of exhibition to improve awareness for environmental debt swap scheme as one alternative bilateral funding for environment activities.
Links: http://worldparkscongress.org/about/what_is_the_iucn_world_parks_congress.html
SHARE: