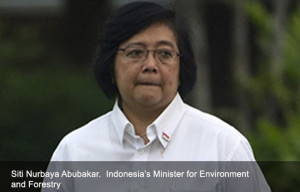 In his newly appointed cabinet, the elected Indonesia's 7th President, Joko Widodo announced Siti Nurbaya Bakar as one of his minister for environment and forestry affairs.
Thirty four Ministers were sworn on the 27th of October in this so called Working Cabinet. Even though the size are the same as the previous cabinet, there are several ministries which changed their names due the new President's priorities, including incorporation or reduction of ministerial authorities.
The Ministry of Forestry as one of the TFCA-Sumatera's stakeholders from the Government sides is merged with the Ministry of Environment so that it changes its nomenclature into the Ministry of Environment and Forestry. The President gives two months time for the new ministry to settle down with the organization structure and the program.
Siti Nurbaya Bakar, the new Minister of Environment and Forestry began her career as a bureaucrat in the Regional Development Planning Board (BAPPEDA) of the Province of Lampung in 1981. In 1998, she was posted in Jakarta at the Ministry of Home Affairs, and promoted as the Ministry's Secretary General in 2001. In 2006, she was transferred to the office of the Parliament as the Secretary General of the Regional Representative Council (DPD) before she finally decided to enter a political world in 2013 as a politician at the National-Democrat Party (Partai Nasdem).
Her educational background is sufficiently good. She was graduated her first degree in 1979 from a reputable Bogor Agricultural University (IPB). Her Master degree was then received in 1988 from a foreign university, International Institute for Aerospace Survey and Earth Sciences (ITC), Enschede, the Netherlands before she conferred Doctorate degree in 1998 from Bogor Agricultural University.
For her dedication on several areas, she has received many awards. These include: 99 Most Powerful Women from Globe Magazine Asia and 100 Most Inspiring Women from Kartini Magazine.
She will certainly face tough problems with regards to to the environment and forestry issues. For the next five years she has, not only to accomplish missions on fighting problems which relate to issues such as biopiracy, climate change, pollutions, safeguarding protected areas, forest and land fires, reducing deforestation rate, regulate the use of genetic resources, saving endangered species and handling the rampant conversion of peat-swamp forests into other uses, but also at the same time has to increase the Government earning from this sector. She also has to work on the tenurial (forest-land) conflicts.  We, conservation community put high expectation on her shoulder.
SHARE: